Saving Energy with Revolving Door Systems
In warm climates, like South Florida, it's important that the inside of buildings stay cool in order to have maximum comfort for all occupants. Aside from routine HVAC maintenance, entryway systems also affect how efficiently the air conditioning in a building distributes throughout the space. In a 2006 MIT study, revolving doors were proven to serve as effective airlocks minimizing a building's cooling losses. Revolving doors were said to have generated up to 74% in energy savings when compared to other entrance alternatives.
In order to determine if implementing a revolving door system for your building will provide the best return on investment, there are various factors that must be put into the equation. Some of these factors include location, foot traffic, wind speed and more. Click here to view Horton Automatic's Energy Savings Calculator (Adobe Flash Player required). Just input your project specifications and entrance characteristics to calculate your savings.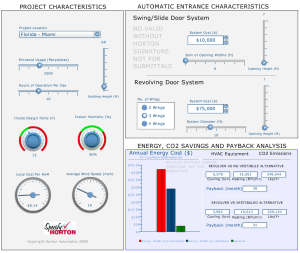 To learn more about the benefits of revolving doors, view Horton Automatic's Revolving Doors: A Greener, More Secure Environment and view Dash Door's Revolving Door product lines here.