The Dash Door Difference is the combination of experience, product & service offerings and an ongoing commitment to customer service. Our six specialty departments offer our clients a unique turnkey solution to commercial door and glazing systems.
Steve Sanko, PE
CEO
ABOUT DASH DOOR
Established in 1955, Dash Door is a leading commercial contractor for "Division 8" products and services, operating through its six in-house departments: Glass and Glazing, Contract Door and Hardware, Automatic Door, Service & Maintenance, Access Control, and Specialty Architectural Products.  Solutions provided to general contractors, facility managers, building owners, architects and designers range from preventative maintenance plans to complex turn-key projects.
Dash Door offers extensive lines of product and service offerings, encompassing all varieties of commercial door, glass and associated hardware solutions across departments.  Having built a decades-old reputation of providing service first, while supporting the best manufacturers and brands in the industry; Dash Door's team culture is focused on pride, accountability, collaboration and respect – regardless of client or project size.
OUR HISTORY
To a young officer in New York City, who just finished his military service after WW II, the bright lights and abundant sunshine of Miami Beach beckoned as the US began its post war boom. Dash Door was established in 1955 when founder Martin J. Steiner and his wife Esther decided to explore exciting new technologies and opportunities that were exploding in South Florida.
The door opened, literally, with the founding of Dash Door, which capitalized on Marty's business acumen. The new company sold automatic door solutions to the burgeoning hospitality market during the "Miami Modern" boom. By the early 1960's, Dash Door began to work with a new client, the Miami International Airport (MIA) – a humble relationship that continues today with thousands of automatic and security doors being serviced 24/7.
Leveraging its hospitality and airport expertise, Dash Door continued southward, expanding into the Caribbean and Latin America in the 1970's. By the 1980's, the door industry was fully embracing new technologies. Dash Door assumed a leadership role in developing programmable logic control for the MIA and other clients needing complex door sequence of operations or door status reporting over multiple locations. The current Access Control/Electronic service group was born from this effort.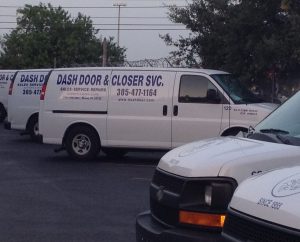 Fierce hurricanes and tropical storms during the 1990's created a dramatic shift in the way South Florida viewed glass as a building material. With strict new codes evolving, Dash Door expanded its glass and glazing capabilities, becoming a state certified specialty subcontractor to expand its scope offerings on commercial projects. Dash Door also designed and fabricated its first Miami-Dade code approved hurricane product; the center hung aluminum and glass in-swing automatic door is unparalleled in the market today.
As the new millennium ushered in a construction boom, Dash Door responded by implementing new processes, better quality control and enhanced administrative abilities. The addition of Dash Door's Contract Door Hardware Group in 2009 was followed by new warehousing capabilities for large–scale contract door and hardware deliveries. Today, larger inventories provide clients with access to Dash Door products on any new construction or renovation project. We can quickly respond to requests for integrated service for Division 8 scopes.
We look fondly on our history as it renews our commitment to superior service, innovative product development and the long-term client relationships that result from years of hard work.
OUR TEAM
The Dash Door & Closer Service team is made up of professionals with a combined experience of over 250 years – experience while only being employed at Dash Door! Our high retention offers our clients the greatest level of technical support and service. Our team:
Professional Hardware Consultants
Automatic Door Sales Manager
Registered Professional Structural Engineer
Certified Licensed Glass & Glazing PMs
Certified Licensed Low-Voltage PM
Electronics Manager
Service Manager
Warehouse Manager
Foremen
Glaziers
Automatic Door Installers
Service Technicians
Contract Door Hardware Installers
Master Carpenter
Hydraulic Rebuild Technicians
Financial Controller
Administrative
Dispatch
Dash Door is always looking for qualified and motivated individuals to join our team. Please contact us if you feel you are up to the challenge.
Resumes may be submitted to:   resumes@dashdoor.com
LICENSED & INSURED
Certified Specialty Building Contractor – Glass & Glazing (FL License#: SCC131151092)
Building Specialty License – Low-Voltage (License #: 02E000932)
Building Speciality License – Garage & Industrial Door (License #: 02BS00932)
Registered Professional Structural Engineering License (FL PE License #: 67938)
PROUD MEMBERS OF