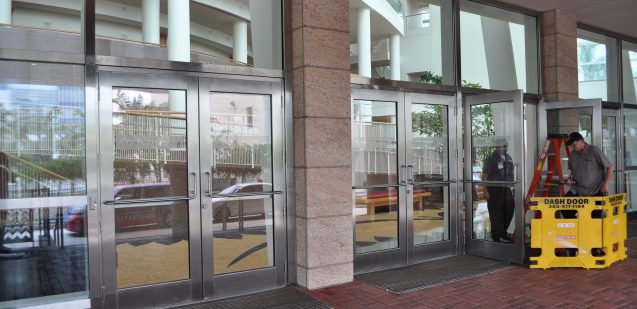 Reliable Service
by Door Professionals
The Dash Door Service & Maintenance Group provides comprehensive repair and preventative maintenance services for a full range of door types and manufacturers.  Our primary South Florida service area includes Miami-Dade, Broward, Monroe, Palm Beach and St. Lucie counties from the Florida Keys to Port St. Lucie and includes the following cities and surrounding areas:
Miami
Miami Beach
Hollywood
Sunrise
Fort Lauderdale
Pompano Beach
Boynton Beach
West Palm Beach
Lake Worth
Jupiter
Homestead
Key Largo
Dash Door also provides all service offerings to our clients in the Caribbean Islands.
Technicians
---
Our qualified technicians strive to provide the highest level of service in our industry. All technicians:
Are certified by the American Association of Automatic Door Manufacturers (AAADM)
Are trained to review potential safety / client risk management exposure
Are uniformed and professional in appearance
Arrive at your location in a clearly marked Dash Door service fleet vehicle
Utilize computerized mobile dispatching application with access to client site history and company-wide inventory
Have been provided with extensive manufacturer training and internal cross-training on product types
Have cleared criminal background checks as required to service high-security government sites
Are part of our Drug-Free workplace which includes random testing
Are provided with technical and safety continuing education seminars on a WEEKLY basis
Rapid Response
---
Savvy facility managers already know that calling the company who manufactured a door for service is a dead end – "mechanics" being dispatched from a patchwork network from their homes typically creates part shortages and LONG wait times. These manufacturers may know how to run a factory, but service is not their business. Dash Door clients have come to expect and receive prompt response to service requests. We deliver on these expectations by:
Providing 24 hour emergency dispatch service – 365 days a year. No answering machines here – a dispatch operator is ready to take your emergency service call at ANY time.
Dispatching "after-hours" Emergency On-Call technicians from their home address to ensure the fastest response
Providing clients with phone, email and Dash Door website service request options
Continually maintaining and upgrading our fleet of professional service vehicles
While same-day service is typical, Service Agreement clients are guaranteed specific response times depending on plan selected. ALL client calls are prioritized to ensure timely response to critical safety and security issues. Emergency service response is also available during regular business hours.
Service Management and Dispatching System
---
Dash Door utilizes computerized dispatch and GPS fleet routing software. This application streamlines workflow and provides network and mobile app information sharing and location based service histories.
Part Availability
---
Dash Door service vehicles are stocked with the most commonly required parts. We are also able to deliver parts directly to a site from any one of our warehouse locations. We stock all makes and models of automatic door parts and also have access to a wide range of hardware from our Contract Door Hardware and Glass & Glazing Group inventory warehouse. Access to the inventory of our other in-house departments is a "force-multiplier" for our service / maintenance group thus enabling faster turn-around times on your service calls. While others may need to order the part – we will typically have what you need in stock.