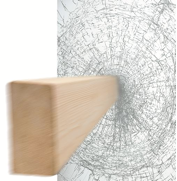 PrivacyVue™ and Enviralum partner to offer the first Florida Building Code approved impact-resistant fixed glazing system with switchable glass
PrivacyVue™ switchable glass is now offered in an exterior-hurricane impact storefront product. Enviralum's ENV-450 fixed window wall system recently obtained Florida Building Code Approval by meeting large and small missile impact requirements with PrivacyVue™ (FL Building Code Approval #19002).

Enviralum's ENV-450 is a high-performance glazing system that offers variable glazing options, including the recent addition of PrivacyVue™ switchable glass. The system can also be thermally broken for superior energy savings and is a unitized, pre-glazed system that offers superior quality control and saves field labor.

"Today's architects and owners are constantly looking for unique ways for their buildings to stand out and make a statement, by adding PrivacyVue™ to our ENV-450 system we can not only offer a unique visual design but offer owners and tenants privacy with a flip of a switch," says Frank Messa, President of Enviralum.
For additional information on PrivacyVue™ visit www.privacyvue.com. For additional information on Enviralum visit www.enviralum.com.
                                                                            # # #
About PrivacyVue™ – PrivacyVue™ offers architects, designers and owners a high-performing, low voltage switchable glass product that can be produced in sizes up to 72" x 120" and is the first switchable glass product that has been approved in an impact-resistant window system. PrivacyVue™ is sold through authorized dealers only. For more information on using or specifying PrivacyVue™ visit www.privacyvue.com or call 305.477.1164.
About Enviralum – Enviralum Industries, Inc., founded in 2011 by Frank Messa, offers a complete line of entrance and storefront systems to meet the demanding needs of the industry in quality, service and sustainable design. The corporate headquarters and manufacturing facility is located in Miami servicing the Southeast region of the United States. For more information on Enviralum visit www.enviralum.com or call 305.752.4411.