The Dor-O-Matic Hydraulic Door System – A Brief History
Early History
Dor-O-Matic was founded in 1951, and distinguished itself quickly as a quality manufacturer of innovative and reliable products.  In 1953, Dor-O-Matic (DOM) invented the hydraulically operated automatic door operator for pedestrian traffic doors.
Dash Door maintained a close relationship with Dor-O-Matic since our founding and was recognized as a top nationwide distributor and service center for the line.  Soon after Ingersoll Rand acquired Dor-O-Matic in 1997, the automatic door division was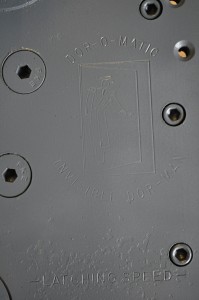 closed.
Dash Door Acquires Dor-O-Matic Hydraulic Door Line
Dash Door had at that time provided service to many clients, including Disney World and Miami-International Airport, who had come to rely on the power and reliability of the product line.  In order to service these clients, Dash Door acquired from Dor-O-Matic the full line of of the Dor-O-Matic Hydraulic Door System and maintained a full-time staff trained and dedicated to maintaining this equipment for clients nationwide.  This acquisition included all products and factory equipment required to maintain and service existing product, as well as install new equipment where existing infrastructure called for its use.
Advancing The Technology
Since acquiring the line,  Dash Door has furthered the technology by incorporating access control / logic programming in line with the door operators and activation hardware.  A patent is pending for our development and work to date in this area.
A new proprietary hydraulic power unit has also been designed and incorporated into new installations and replacement applications.  Todays modern hydraulic fittings, gages and pressure switches are used to provide updated control and reliability.
The re-purposing of this line for heavy doors, lead-lined doors and moveable glass partitions has also been a solution to swinging or sliding panel weights that require the power only a closed hydraulic system can provide.
Today
Dash Door is THE resource continuing to service, maintain, rebuild, and utilize the famed Dor-O-Matic Hydraulic Door System for clients nationwide.